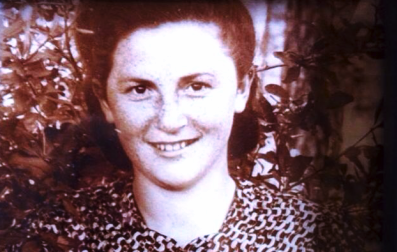 Judith as a young girl before the war.
Biography
As a teenager, in 1943, Judith Ginsburg (Yudis Kosczeinska) escaped from the line of Jews being marched to the trains bound for Majdanek as shots were fired at her. Rescued by a non-Jewish Polish man, she was incorporated into the Russian Partisan Paratroop unit, the Raschinsky otriad, where she served as an active combatant, partaking in numerous battles against the Germans. In the battle at Gavia Stantsia, where both men on either side of her were shot, Judith bravely dragged her fellow wounded comrade to safety, saving him and herself. At the age of 18, she was commended by her commander for her bravery and steadfastness. Due to the arrival of numerous Polish and Belarussian locals a few months before the end of the war, antisemitism in the Raschinsky unit escalated. Concerned for her safety, her commander helped her join the all Jewish Bielski Brigade where she took part in food procuring and scouting missions. Judith was the only survivor of a large and well respected family of four sisters, one brother, many aunts, uncles, cousins and grandparents. After liberation she returned to Lida, where she met and married Motke Ginsburg (z"l).
Judith and Motke, along with his sisters Frieda, Leke and father Avram Shlomo, made their way across Europe to the DP Camp Faehrenwald where they spent four years waiting to emigrate to America. There they had two children, Howard and Riva. In 1949, the family of four emigrated to the United States and settled in Troy, NY. They soon added two more children, Fran and Sheri, to the family. Today, Judith has ten grandchildren, thirteen great-grandchildren, and the number continues to grow.  To this day Judith continues to educate school children, welcoming them into her home to tell them her story of resistance and survival. Held in high esteem by all who know and love her, she is the beloved matriarch of the Ginsburg family and lives in Coconut Creek, Florida.
Read more about Judith Ginsburg, and leave her a 95th Birthday message on JPEF's Jewish Partisan Community site at: www.jewishpartisancommunity.org/partisans/judith-yudis-ginsburg-kosczeinska/
Donate to the Judith and Marvin (z''l) Ginsburg Fund for Jewish Partisan History Education here: www.jewishpartisans.org/2019gala