Frequently Asked Questions
How can I use this in my classroom?
The following e-learning courses are recommended for classroom use:
* Resistance Basics
* Living and Surviving in the Partisans
* Women in the Partisans
* Antisemitism in the Partisans

These courses come with accompanying study guides with discussion questions you can use after viewing the E-Learning course. For best results with your students:
1. Preview your course and print out the study guide.
2. Click 'Turn Questions Off' button (disables quizzes).
3. Advise students that the course is aimed at training teachers, and to think about how they would teach others about the materials they are about to view.
4. Play the video from the beginning, skipping past the 'How to Use...' chapter (second-from-last).
5. Pause from time to time for student questions. When you get to the end of the course, use the discussion questions from the study guide to stimulate further conversation.

Please tell us how it went -- send your feedback to:
elearning@jewishpartisans.org
What does this platform cost?
The JPEF E-Learning platform is free to users areound the world, thanks to the kind generosity of our donors and supporters.
Are there technical requirements for the site?
We reccomend using the following versions of web browsers to be compatible with the E-Learning site:
Internet Explorer 6.x and later
Firefox 2.x and later
Opera 7 and later
Safari 6.x and later
Camino 1.x and later
Google Chrome
Are there other classes planned?
We are currently not producing any more classes. If you would like to request one, please email elearning@jewishpartisans.org with your suggestions.
What does the Jewish Partisan Educational Foundation (JPEF) do?
Most people have never heard of the 20,000-30,000 Jews who fought back against the Nazis as Jewish partisans. These Jews were responsible for blowing up thousands of armored convoys and thwarting the Nazi war machine in countless ways. This information has the power to transform people's perception of the Jewish experience during the Holocaust.
The mission of JPEF is to develop and distribute effective educational materials about the Jewish partisans and their life lessons, bringing the celebration of heroic resistance against tyranny into educational and cultural organizations. JPEF has produced a comprehensive and thought-provoking new curriculum called RESIST, designed to transmit the enduring understandings arising from the stories of the Jewish partisans. With layers of interactivity unprecedented in most any curriculum, RESIST is designed for 6th-12th grade students in formal and informal settings and is now being implemented in Jewish and secular schools worldwide.
What are the classes available?
There are currently 11 lessons available on a variety of subjects related to the Jewish partisans:
Resistance Basics
Tactics of Resistance Part 1
Tactics of Resistance Part 2
Strengthening Jewish Pride
Ethics of War
Finding Leadership
Teaching with Defiance Part 1
Teaching with Defiance Part 2
Women in the Partisans
Antisemitism in the Partisans
Living and Surviving in the Partisans
How do I get professional development credits?
Free continuing education units (CEUs) are now available from Torou College for successfully completing JPEF E-Learning courses.
For more information on receiving CEUs and and other professional development credits, go to http://elearning.jewishpartisans.org/CEU

E-learning success stories
E-learning success stories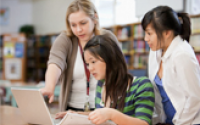 E-Learning in Offline Life
Our E-Learning courses have helped countless students learn about complex issues such as ethics and revenge. Read first hand accounts ...
E-Learning lessons
E-Learning Courses at a glance
Engage and inspire your students by teaching about the 20-30,000 Jews who fought back against the Nazis and their collaborators as Jewish partisans. Start here and you'll be ready to teach a 15-60 minute class on Jewish armed and unarmed resistance within minutes of completing the course.
Grades: 6-12 and above - can be used in classroom
Subjects: History, English, Social Studies, Holocaust/Genocide, Tolerance, Judaic Studies, etc.
Running Time: 46:14
Credit Hours: 1.25