Image
Jewish partisans in action during the August 1944 insurrection in the south of France. French Jewish partisans participated in the liberation of southwestern France, fighting with General de Gaulle's underground units.
Image
Eta Wrobel helped organize an exclusively Jewish partisan unit of close to eighty people. Her unit stole most of their supplies, slept in cramped quarters, and had no access to medical attention.
Image
Letter from General Dwight Eisenhower, Supreme Commander of the Allied forces, to all Belgian partisans.
Image
Brenda Senders a Jewish Polish partisan. Her partisan unit conducted ambushes, occupied villages, blew up bases, bridges, and train tracks.
Image
Joseph and Irene Greenblatt. Joseph, met his wife in the Warsaw ghetto where they were married. Joseph and Irene were both a part of the Warsaw uprising and escaped the ghetto, becoming partisans in the surrounding area.
Image
A sketch by Jewish partisan Eugenio Gentilli-Tedeschi done while serving in his unit. The sketch "shows a funeral of a partisan fallen during combat. His name was Giorgio Elter. He had participated in an assault on a roadblock in Aosta. The expeditio
Image
A Jewish partisan in the Italian First Alpine Division, Harry Burger used his fluency in German to interrogate captured soldiers. One of the division's most important tasks was the sabotage of German electric capabilities in Northern Italy, where the dest
Image
Faye Schulman, partisan fighter and photographer, with commander on a boat as they head off on a mission that would lead them near Nazi areas. Photo taken by fellow partisan.
Image
A self-portrait of photographer Julia Diament Pirotte. Pirotte grew up in a working class Jewish family in Warsaw. In the 1930's she emigrated to Belgium, where she married and studied photography. After the German occupation of Belgium and the depor
Image
Faye Schulman, partisan fighter and photographer, with other Jewish Partisans who she knew from before the war. They were acting as messengers for another partisan brigade. Faye says she was, "happy that there are three Jewish boys fighting."
Pages
E-learning success stories
E-learning success stories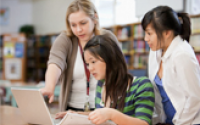 E-Learning in Offline Life
Our E-Learning courses have helped countless students learn about complex issues such as ethics and revenge. Read first hand accounts ...
E-Learning lessons
E-Learning Courses at a glance
Engage and inspire your students by teaching about the 20-30,000 Jews who fought back against the Nazis and their collaborators as Jewish partisans. Start here and you'll be ready to teach a 15-60 minute class on Jewish armed and unarmed resistance within minutes of completing the course.
Grades: 6-12 and above - can be used in classroom
Subjects: History, English, Social Studies, Holocaust/Genocide, Tolerance, Judaic Studies, etc.
Running Time: 46:14
Credit Hours: 1.25