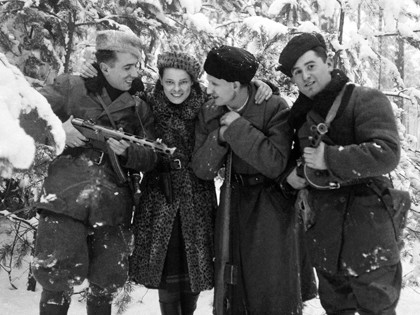 Resistance Basics
Engage and inspire your students by teaching about the approximately 30,000 Jews who fought back against the Nazis and their collaborators as Jewish partisans. Start here and you'll be ready to teach at least one 15-60 minute class on Jewish armed and unarmed resistance within minutes of completing the course.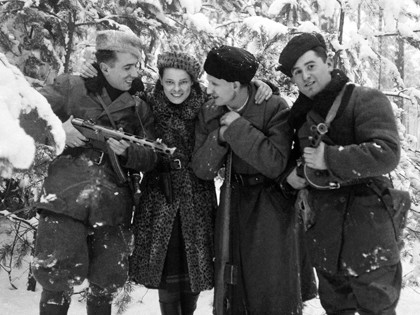 49:16 minute video divided into 10 chapters
5 Downloadable study guides for grades 6-12 and Up
Desktop and mobile access
Certificate of Completion
1.25 Credit hours towards free CEUs (10 credit hours = 1 CEU)
Appropriate for classroom use
Start and stop any time
Optional quizzes to qualify for course credits
What Will I Learn?
How to teach at least one 45 to 60 minute class about armed and unarmed Jewish resistance efforts during World War II
How to use JPEF curricula to teach history, heroism, ethics, leadership, Jewish values, and more
The five most important things to teach about the Jewish partisans
Historical context for teaching about armed and unarmed resistance during the Holocaust
How to use the JPEF website to find the resources that are right for you
Techniques for fostering comprehension and critical thinking skills
Suggestions for extending the lessons
The life lessons of the Jewish partisans: Young people can make a difference, Stand up to tryanny, oppression and discrimination -- early, and Never give up
About this Course
| Q: | What is the video course about? |
| --- | --- |
| A: | During the Holocaust, 20,000-30,000 Jewish partisans, spread across at least ten Nazi-occupied territories in Europe, fighting to help defeat the German army. This course provides tools and resources to teach your students how Jewish partisans overcame extreme conditions to strike back against their oppressors during the Holocaust. |
| Q: | Who is it for? |
| --- | --- |
| A: | For educators teaching 6th grade and above. Suggestions are given for modifying the activities to suit your needs. Basic knowledge of World War II and the Holocaust is helpful, but not required. |
| Q: | What resources from the JPEF website will the course introduce me to? |
| --- | --- |
| A: | More than 50 partisan profiles using primary-source video testimonials, photographs and short biographies. A library of short documentary films. Access to more than 15 printable lessons and study guides. Hundreds of video clips and photographs. JPEF's blog to keep you updated with new curricula, teacher tips, and articles. Maps, a virtual underground bunker, and more. |
| Q: | How do these materials support learning? |
| --- | --- |
| A: | These materials provide the basis for whole class discussion, partner study, written response, research projects, and creative extensions that will expand the way students think about both history and resistance to oppression. The materials are designed to encourage critical thinking skills, including questions about the moral and ethical issues partisans faced and how students might respond to difficult situations in their own lives. |
| Q: | How is the course structured? |
| --- | --- |
| A: | Nine chapters each, with chapter quizzes to reinforce comprehension. Teachers who score 80% or more on the quizzes can earn free credit hours and CEUs through Touro College. |
Chapters
1.

Introduction and Goals

(04:39)

2.

German-Soviet 1939 Non-Aggression Pact

(02:01)

3.

Jewish Ghettos and Camps

(04:49)

4.

Different Types of Resistance

(02:18)

5.

How Partisan Groups Began

(10:07)

6.

What Partisan Groups Accomplished

(03:36)

7.

Antisemitism in the Partisans

(04:30)

8.

Luck, Opportunity, Knowledge

(01:40)

9.

How to Use This in the Classroom

(11:02)

10.

Conclusion/Summary

(04:34)
Feedback
---

---

---
This course has began to fill the gaps of my knowledge regarding the Jewish Partisans in Eastern Europe during WWII. Excellent course and thanks.
---

---

---

Good basic springboard to impart enough knowledge to answer the basic question, but enough to go on to expand and investigate for a deeper understanding
---

Great information and pertinent today.
---

---

---

Well-presented and easy to maneuver back and forth within the module.
---

Using the term "germans" instead of Nazi's encourages dislike and implies responsibility of all germans as a whole and should be replaced with a term like "Nazi's and their collaborators."
---

---

Presents the dilemma of resistance by the Jews in its many forms
---

---

Brilliant! Really enjoyed it! Great structure and excellent content. Liked the case study approach too :)
---

This course was wonderful, very engaging and informative.
---

---

---

---

This was terrific! I love how they explain what the course is designed for and I plan to do exactly that - 1 or 2 45minute lessons on Jewish Resistance in the Holocaust
---