Engage and inspire your youth with these free, ready-to use materials for teaching History, Leadership, Ethics and Jewish Values through the life lessons of Jews who fought back during the Holocaust. Designed for 6th-12th grade History, English, Social Studies, Holocaust/Genocide and Jewish Studies classrooms and informal settings (youth groups, summer camps, etc.). Most materials can be completed in 45-60 minutes.
Lesson Plans & Activities: Interactive, thought-provoking lessons and experiential programs - include step-by-step procedures, teacher guides, and illustrations.
Study Guides & Biographies: Profiles and articles with critical thinking questions stimulate discussion on a variety of topics from living and surviving to women in the partisans.
Featured Curricula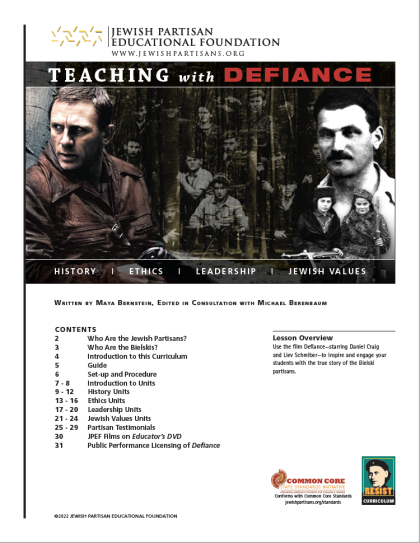 Teaching with "Defiance"
Use the film "Defiance" — starring Daniel Craig and Liev Schreiber — to explore History, Leadership, Ethics, Jewish Values and Primary Sources. Inspire and engage your students with the true story of the Bielski brothers, who saved 1,200 lives and organized the largest Jewish resistance unit during World War II. (For grades 9-12+)
No registration required to download during the month of May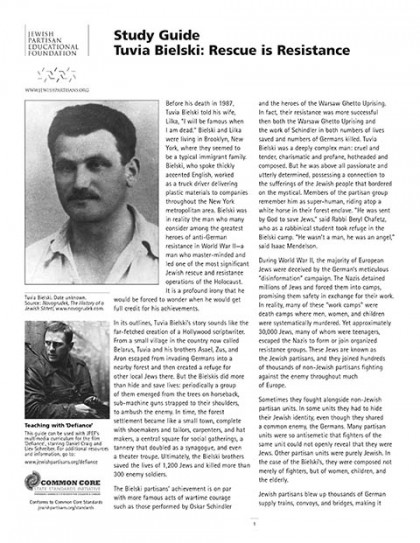 Tuvia Bielski: Rescue is Resistance
The Bielski brothers — Tuvia, Asael, Zus and Aron — rescued 1,200 Jews and formed one of the largest and most successful Jewish Partisan units, even building an entire village inside enemy territory. Written with Bielski biographer Peter Duffy. (For grades 7-12+)
No registration required to download during the month of May
Who Are the Jewish Partisans? (1 page)
Use this inspiring one-page study guide to teach about the 20,000 to 30,000 men and women — many of them teens — who fought back against the Nazis and their collaborators as Jewish partisans. Includes a survey of both armed and non-violent Jewish resistance during the Holocaust. (For grades 6-12+)
No registration required to download during the month of May
Lesson Plans & Activities