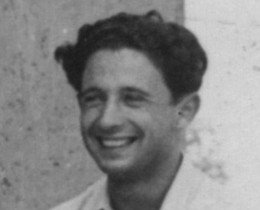 Leon Senders, 1945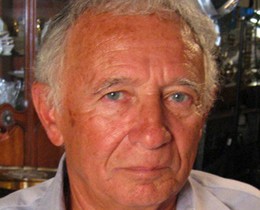 Photographed by Mitch Braff in February of 2003
Biography
Leon Senders was born in Vilna, Poland, on March 19, 1923, to a secular Jewish family with strong Socialist sympathies. As a high school student, he attended technical school, gaining mechanical experience that would prove invaluable during the war. Living in an area annexed by the Soviet Union, Leon was shielded from most of the violence until 1941, when the Germans broke the Nazi-Soviet Non-Aggression Pact. Leon was returning from a factory picnic in the countryside when he found Vilna smoldering in the wake of a German bomb attack. Later in the day, a group of local boys invited him to escape with them into Russia. He remembers how his father urged him to go: "[He] said, 'Go, you are a youngster. You are eighteen years old. If anything will happen, people like you and your boys will go first.'"
Leon and his companions made their way east and eventually found a division of the Russian Army which helped transport them into Soviet territory. Once there, Leon joined the newly formed Lithuanian division of the Russian Army. Aided by his background, he was selected to spend a year in Moscow learning Morse code and the art of deciphering telegraphs.
In 1943, armed with an automatic rifle and a short-wave radio, Leon parachuted into the Lithuanian forest, near a German-controlled railway junction, to conduct espionage operations. He concealed his Jewish identity, bleaching his hair blond and relying on his command of Polish, Russian, German, and Lithuanian to gather information. Working as the 'ears and mouth' of the partisans, he became their liaison to the regular army. He used a network of local informants to monitor German movements, and he telegraphed his findings to the Soviet military through a series of coded messages. The information he provided was crucial in carrying out bombings on German supply shipments. "I would like the partisans to be remembered as a part of victory," Leon said. "Without them, victory would be smaller than the victory that we brought to the world."
Brenda and Leon had three children and seven grandchildren. Both Brenda and Leon passed away in 2013.