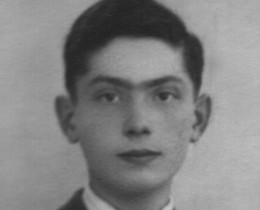 Walter Marx in family portrait, Montpellier, 1942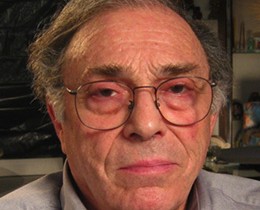 Photographed by Mitch Braff in May of 2003
Biography
Walter Marx was born in Heilbronn, Germany on February 27, 1926. When the hatred of his antisemitic classmates became unbearable, 9-year-old Walter moved to Luxembourg to live with relatives. Soon, Walter's parents were forced to relinquish control of their business and, on Kristallnacht, their home was destroyed and his father arrested. The Germans eventually released his father, and both parents joined Walter in Luxembourg.

After the Germans invaded Luxembourg, Walter's family crossed into the unoccupied part of France. His father was arrested by the French police and sent to his death at the
Majdanek Concentration Camp
in Poland. In September 1943, Walter's family followed the retreating Italian Army through the Alps. They reached a small town in Italy that was quickly absorbed by the German Army. One night, working as a laborer for the Germans, Walter suffered a severe spinal injury and avoided being sent to a concentration camp with his mother and cousin, who were both killed.
Walter joined the Italian partisans in 1944. His primary responsibility was to solicit food from Italian farmers and manage paperwork. While posing as an Italian interpreter for the German SS, he gathered critical intelligence and captured an Italian spy sent to locate Jews and partisans hiding in the mountainside. His unit actively engaged the Germans, once stalling a convoy of troops from advancing on a strategic road to France by employing mortar and small arms fire.
Walter says, "Being a survivor of the Holocaust you have dual feelings; you are happy to have survived, but you also have a certain guilt feeling — on the other hand, it gives me a certain satisfaction that I fought the evil that caused the death of my family and friends."