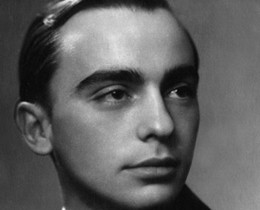 Simon Trakinski, Lintz Austria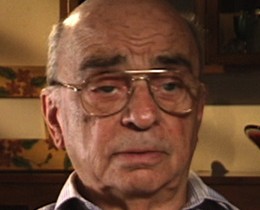 Photographed by Mitch Braff in September of 2001
Biography
Simon Trakinski was born in Vilna, Lithuania, in 1925. Like many others, his family fled to the east when the war began in 1939, seeking refuge in the Russian village of Smorgon. When the Germans invaded Russia in 1941, Smorgon was occupied and all the village's Jews were forced into the ghetto.

Simon heard about the activities of the partisans from escaped Soviet POWs. When his family left the Smorgon Ghetto to return to Vilna, he and his friends carried guns with them. In Vilna, they joined up with the United Partisans Organization and took part in the failed uprising in the Vilna Ghetto. When the ghetto was closed in 1943, Simon and his group escaped but were forced to leave their families behind. They initially fought with the Jewish Markov Brigade that was engaged in a struggle against rival partisan groups over control of the territory around Vilna, among them the right-wing branch of the Polish
resistance
, the Armia Krajowa (AK). But when Markov's camp was blockaded by the Germans, Simon was forced to escape and join another group. He worked as a spy and a saboteur in liaison with a partisan unit established by the regular Soviet Army. He helped gather information about troop and supply movements, mine roads, and blowing up bridges. His group was especially active along the Berlin-Moscow supply route.
As the war continued, Simon left the partisans to work for the Soviet government as a schoolteacher in a remote Russian village. When the war ended and the "iron curtain" began to descend across Eastern Europe, Simon returned to Poland and smuggled himself into the West. He spent three years in Austria attempting to immigrate to the U.S., before finally being allowed to enter in 1948.
Simon died on January 2, 2009 surrounded by his loving family at his home in New York.